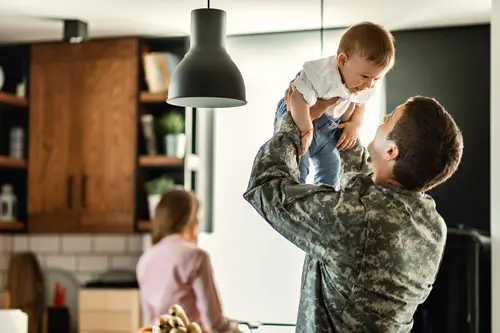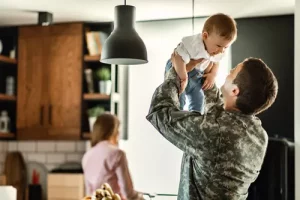 Fair Oaks Recovery Center, in Sacramento, California, understands that Veterans and their families face unique challenges when it comes to behavioral health and addiction issues. Despite increasing rates of depression, post-traumatic stress disorder (PTSD), and addiction among this population, many Veterans avoid seeking help due to the belief that treatment providers won't be able to relate to their experiences. At Fair Oaks, we recognize the importance of working with providers who specialize in caring for Veterans and their families to ensure they receive the support they need.
We are proud to be a Veteran-Ready program in partnership with the Department of Veterans Affairs' Community Care Network and PsychArmor. Our staff is trained to create a culturally-competent and trauma-informed environment that fosters healing and recovery. We offer a variety of treatment modalities to meet each client's specific needs and goals. Our multidisciplinary team develops personalized treatment plans.
The initial stage of any addiction treatment program is detox, which involves physically preparing the individual for the remainder of the treatment process. Our Tactical Recovery Veteran's program is specifically designed to address post-acute withdrawal symptoms.
Individual Therapy
We offer one-on-one sessions with a licensed therapist or counselor well-versed in the issues veterans commonly face. The goal is to help the individual address and work through a range of emotional, psychological, or behavioral issues that may be causing distress or impairing their daily functioning. And, individual therapy can be useful in treating a wide range of mental health concerns, including anxiety, depression, trauma, addiction, relationship problems, and stress-related disorders. During therapy sessions, the therapist may use a variety of techniques and approaches tailored to the individual's specific needs and goals, such as cognitive-behavioral therapy, psychodynamic therapy, or humanistic therapy. Through regular sessions, individuals can develop a deeper understanding of their thoughts, feelings, and behaviors, learn coping skills to manage difficult emotions, and work towards personal growth and positive change.
Group Therapy
Group Therapy sessions can be intimidating at first, because it's hard to share traumatic experiences with others. But hearing what others have gone through allows individuals to feel stronger and able to commit to their recovery. And, by sharing life stories, individuals can relieve the burdens and hurt that have been carried alone for so long.
Trauma Therapy:
Trauma therapy is specifically designed to address the emotional and psychological effects of trauma, which can include a range of symptoms including anxiety, depression, flashbacks, nightmares, and feelings of guilt, shame, or anger. Trauma therapy typically involves talking with a trained therapist or counselor who has experience working with those who have experienced trauma. The goal of trauma therapy is to help individuals process their trauma and develop coping strategies to manage the symptoms that may be interfering with their daily life. Some common types of trauma therapy include cognitive-behavioral therapy (CBT), eye movement desensitization and reprocessing (EMDR), and somatic experiencing therapy.
Recreation Programs:
Recreational activities can provide individuals with numerous benefits, including opportunities to build confidence, develop effective coping strategies, and integrate new skills. Engaging in recreational activities can help individuals to reduce stress, increase feelings of relaxation and well-being, and improve their overall quality of life. This can include Weekly Addiction/Trauma Yoga classes (integration of yogic tools including movement, breathing techniques, meditation, Yoga Nidra/deep relaxation, and mindfulness activities) and physical conditioning.
Family Education and Support
Addiction and mental health concerns extend far beyond the individual and can affect the entire family unit. That's why we feel it's crucial for all family members to understand the issues, acquire the skills and work towards healing together.
Ongoing Support
After completing the program, our alumni initiatives will help individuals establish connections with suitable and continuing resources in their local communities that will cater to their ongoing needs. We also offer Lifetime Alumni groups and aftercare meetings Tuesdays at 7 pm.
Our Tactical Recovery Veteran Program offers care addressing:
24-Hour Nursing and Psychiatric Care
Veteran/First responder-specific groups
Grief and Loss Group
Process Group
CBT Skills Group/Education
DBT Skills Group/Education
Relapse prevention (Gorski-trained)
Individual sessions addressing relapse prevention
Trauma-Informed Care including Seeking Safety Curriculum
Living in Balance Curriculum
Acceptance & Commitment
Relationship Skills
Socialization & Interpersonal Skills
Anger Management
This is an inclusive and LGBTQIA friendly program.
For more information about the Tactical Recovery program for veterans, please contact us at (888) 989-9690.